Created on Sunday, 06 July 2014 10:15
Amid calls for a third intifada, thousands of Palestinians gathered in east Jerusalem on Friday during a violent and highly charged funeral procession for murdered teen Muhammad Abu Khdeir who, according to an autopsy report released Saturday, was burned alive.
Draped in a Palestinian flag, Abu Khdeir's 16-year-old body was carried through his neighborhood of Shuafat under a sweltering sun to a local cemetery, as firecrackers, gunshots, and calls for vengeance pierced the air.
Created on Friday, 04 July 2014 13:23
Saudi Arabia Tries to Silence Center for Inquiry (CFI) at Meeting of UN Human Rights Council
June 23, 2014

Secular Humanists Condemn Kingdom's Human Rights Abuses, Right to Speak Supported by Other Member States

Saudi Arabia tried three times today to silence the Center for Inquiry at the United Nations Human Rights Council today, attempting to stop CFI's representative from addressing Saudi Arabia's zealous persecution of dissidents and its sweeping crackdown on fundamental human rights. 
For more details please check CFI statement about this action
Watch what happened on you tube:   https://www.youtube.com/watch?v=CakI_sn30xg
Created on Monday, 30 June 2014 14:55

Jihadist militant group Isis has said it is establishing a caliphate, or Islamic state, on the territories it controls in Iraq and Syria.
According to BBC News, the Islamic State in Iraq and the Levant (ISIS) announced the establishment of the caliphate in an audio recording posted on the internet on Sunday.
Isis also said that from now on it would be known simply as "the Islamic State".
It also proclaimed the group's leader, Abu Bakr al-Baghdadi, as caliph and "leader for Muslims everywhere".
Created on Saturday, 28 June 2014 16:59
Dr. Muhammad Abdullah Al-Awain, Al-Jazera
According to Saudi Gazette, there are over half a million Twitter accounts that target Saudi Arabia and attempt to wreak havoc in society. Only countries can run such a large number of accounts. Some of the accounts promote atheistic thoughts, some prostitution, others lewdness and homosexuality. They all have one common goal: to destroy religion and morality in society. 
There are around 4,500 accounts encouraging atheism. All of these accounts target Saudis, according to the report Dr. Fayez Al-Shehri sent to the Shoura Council.
Created on Wednesday, 25 June 2014 08:12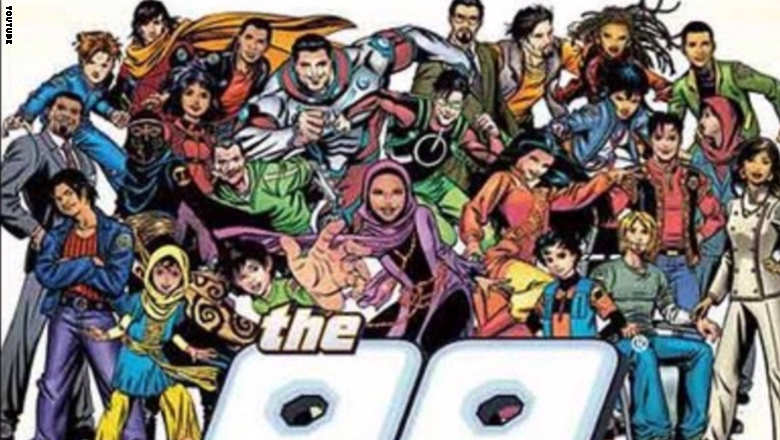 Source: CNN Arabic , Translated in breif by: @benbazaziz
Sheikh Khaled Alshayea the assistant secretary of the the global commission for  introducing the messenger has attacked animated series aired on MBC named "99" considering the idea is based on the embodiment of the names of Allah in cartoon.
" There is the inventor who called  "Aleem": who will predict what will happen, and there is "Bari": who has the ability to heal the sick. and there is "Gabbar" who has strong muscles etc" He said
So the General Presidency of Ifta has issued fatwa that with cartoon is void ad must be forbidden.
Created on Sunday, 22 June 2014 19:55

According to BBC News, The Iraqi government appears to have lost control of its western borders after Sunni militants reportedly captured crossings to Syria and Jordan.
Officials said the rebels took two key crossings in Anbar on Sunday, a day after seizing one at Qaim, a town in the province that borders Syria.
The strategically important airport in the northern town of Tal Afar has also reportedly fallen to the rebels.
Created on Tuesday, 17 June 2014 22:38
According to The Australian, the success of the jihadist group Islamic State of Iraq and al-Sham in creating a proto-Islamic state in Iraq, confirms an unmistakable message — Islam, as it is conceived by a quarter of the world's population, seeks the destruction of the secular world and the imposition of Islamic rule.
To believe otherwise, such as that recent events are the fault of the West arising from a botched invasion of Iraq, is thoroughly delusional.
In broad terms, we can respond in one of two ways. The first option, another military intervention, would again prove a waste of blood and treasure. For the social and cultural destiny of Islam lies in totalitarian or authoritarian religiosity and no volume of drone strikes or boots on the ground can turn this around.
Page 5 of 11
Warning
: Illegal string offset 'active' in
/home/content/28/8522628/html/templates/rhuk_milkyway/html/pagination.php
on line
90
Warning
: Illegal string offset 'active' in
/home/content/28/8522628/html/templates/rhuk_milkyway/html/pagination.php
on line
96
Warning
: Illegal string offset 'active' in
/home/content/28/8522628/html/templates/rhuk_milkyway/html/pagination.php
on line
90
Warning
: Illegal string offset 'active' in
/home/content/28/8522628/html/templates/rhuk_milkyway/html/pagination.php
on line
96
Warning
: Illegal string offset 'active' in
/home/content/28/8522628/html/templates/rhuk_milkyway/html/pagination.php
on line
90
Warning
: Illegal string offset 'active' in
/home/content/28/8522628/html/templates/rhuk_milkyway/html/pagination.php
on line
96
Warning
: Illegal string offset 'active' in
/home/content/28/8522628/html/templates/rhuk_milkyway/html/pagination.php
on line
90
Warning
: Illegal string offset 'active' in
/home/content/28/8522628/html/templates/rhuk_milkyway/html/pagination.php
on line
96
Warning
: Illegal string offset 'active' in
/home/content/28/8522628/html/templates/rhuk_milkyway/html/pagination.php
on line
90
Warning
: Illegal string offset 'active' in
/home/content/28/8522628/html/templates/rhuk_milkyway/html/pagination.php
on line
96
Warning
: Illegal string offset 'active' in
/home/content/28/8522628/html/templates/rhuk_milkyway/html/pagination.php
on line
90
Warning
: Illegal string offset 'active' in
/home/content/28/8522628/html/templates/rhuk_milkyway/html/pagination.php
on line
96
Warning
: Illegal string offset 'active' in
/home/content/28/8522628/html/templates/rhuk_milkyway/html/pagination.php
on line
90
Warning
: Illegal string offset 'active' in
/home/content/28/8522628/html/templates/rhuk_milkyway/html/pagination.php
on line
96
Warning
: Illegal string offset 'active' in
/home/content/28/8522628/html/templates/rhuk_milkyway/html/pagination.php
on line
90
Warning
: Illegal string offset 'active' in
/home/content/28/8522628/html/templates/rhuk_milkyway/html/pagination.php
on line
96
Warning
: Illegal string offset 'active' in
/home/content/28/8522628/html/templates/rhuk_milkyway/html/pagination.php
on line
90
Warning
: Illegal string offset 'active' in
/home/content/28/8522628/html/templates/rhuk_milkyway/html/pagination.php
on line
96
Warning
: Illegal string offset 'active' in
/home/content/28/8522628/html/templates/rhuk_milkyway/html/pagination.php
on line
90
Warning
: Illegal string offset 'active' in
/home/content/28/8522628/html/templates/rhuk_milkyway/html/pagination.php
on line
96
«
Start
Prev
1
2
3
4
5
6
7
8
9
10
Next
End
»