Religion has never been my thing.
When I was nine, I was kicked out of CCD for defending gay rights. I vividly remember sitting outside the classroom leaning up against a hideous yellow wall waiting for my mom to pick me up. When she finally arrived with a big smile she said, "Mommy's proud of you. Don't tell these people though."
When I was 16, I got kicked out of my Christian Lifestyles class at my Catholic high school. (It had a great theater program so my parents took the risk that my older sister and I might end up Republican zealots and sent us there.) Once again, it was the gay issue and at least once a week I was asked to "go get a muffin."
While the gay issue was probably my biggest grievance with the church, I had plenty. Really, any organized religion. So I was dubious when my older sister came home from school and announced her favorite faculty member was an awesome nun named Sister Pat. Clearly, my sister had drunk the juice.
According to The Guardian, Wisconsin city's statute, enacted last month, is believed to be the first of its kind in the US: 'Religion was protected, so non-religion should be, too'
While conservatives in Indiana and Arkansas were explaining last month why their new religious objections laws weren't invitations to discriminate against gays, the leaders of Wisconsin's capital city were busy protecting the rights of another group: atheists.
In what is believed to be the first statute of its kind in the United States, Madison banned discrimination against the non-religious on 1 April , giving them the same protections afforded to people based on their race, sexual orientation and religion, among other reasons.
It's hardly surprising that such a statute would originate in Madison, an island of liberalism in a conservative-leaning state and the home of the Freedom fromReligion Foundation. But the ordinance's author, Anita Weier, said it didn't arise from an actual complaint about alleged discrimination based on a lack of religious faith.
Americans have less confidence in organized religion today than ever measured before — a sign that the church could be "losing its footing as a pillar of moral leadership in the nation's culture," a new Gallup survey finds.
"In the '80s the church and organized religion were the No. 1&?8243; in Gallup's annual look at confidence in institutions, said Lydia Saad, author of the report released Wednesday (June 17).
Confidence, she said, "is a value judgment on how the institution is perceived, a mark of the amount of respect it is due." A slight upsurge for Catholic confidence, for example, parallels the 2013 election and immense popularity of Pope Francis.
Overall, church/organized religion is now ranked in fourth place in the Gallup survey — behind the military, small business and the police — while still ahead of the medical system, Congress and the media, among 15 institutions measured.
"Almost all organizations are down but the picture for religion is particularly bleak," said Saad.
New research finds perceived discrimination may lead people to intensify their identity as atheists.
When people feel ostracized, they often respond by identifying even more strongly with the aspect of their lives that has provoked their rejection. Think of the black power crusade of the 1960s, or the gay pride movement of recent decades.
Newly published research finds this dynamic this also applies to another much-maligned minority: atheists.
"Like people who belong to other marginalized groups, perceptions of discrimination predict poor psychological and physical well-being among atheists," write psychologist Michael Doane and sociologist Marta Elliott of the University of Nevada-Reno. "One way that atheists may cope with such discrimination is by further believing that being an atheist is important and central to their identity."
Belief can certainly give one strength to persevere; so, it seems, can unbelief.
Writing in the journal Psychology of Religion and Spirituality, they describe a study featuring 960 self-identified atheists. They responded to a long list of statements designed to measure their experience with personal discrimination, group discrimination, and their personal identification with atheism, along with their self-esteem, physical health, and satisfaction with life.
JURIST - In Loyola High School and John Zucci v. Attorney General of Quebec the Supreme Court of Canada addressed the issue of religious freedom in the context of teaching religion and ethics in a private Catholic school.
In 2008 Quebec introduced an Ethics and Religious Culture (ERC) program, which it made mandatory in public schools. The program is taught from a secular perspective and is intended to "develop three competencies among students: the ability to understand 'religious culture'...[t]he ability to reflect on ethical questions; and the ability to engage in dialogue."
The Minister of Education has the discretionary power to authorize equivalent courses in lieu of mandatory ones in private schools. Loyola High School applied for permission to replace the ERC curriculum with a course taught primarily from a Catholic perspective.
نحن في خضم حرب فوضوية كبيرة في الشرق الأوسط، أسوأ مما مرّ بالمنطقة في الحربين العالميتين الماضيتين، تستخدم فيها كل الأسلحة من بدائية كالسكاكين، إلى آخر ما وصلت إليه التقنية، مثل طائرات الدرون التي تدار من وراء المحيط!
إنما أخطر الأسلحة هو الديني. وخطورته ليست فقط أنه قادر على تجييش المجتمع، وتحريك جيوش من الشباب راغبين في الموت، بل أيضًا لأنه سلاح مثل القنبلة النووية، يبقى غباره السام لعقود طويلة، حتى بعد نهاية الحرب. كثيرون قتلتهم إشعاعاته، سنوات بعد تدمير المدينتين اليابانيتين، وهذا حال السلاح الديني، الذي لا يختفي حتى بَعد انتهاء الحرب وتظل آثاره لعقود طويلة.
العداء الديني ضد غير المسلمين لا تزال غالبة في الشرق الأوسط
اتحاد ملحدي العالم بكل شبكته العريضه من الشركاء والمجموعات التابعه ستكمل التصدي للخرافة الدينية والقهر السياسي الممارس على غير المؤمنين، كما ستكمل دعم البرامج التي تدعو لترسيخ العلمانية والتفكير العلمي والمنطقي في اشد مناطق العالم تدينا. فنحن نقوم باستضافة مؤتمرات عن الالحاد ودعم المدارس الانسانية وحقوق الانسان والتصدي للتعليم الديني بكل ما يحويه من ظلم وكراهية
وبما اننا في بدايه عام جديد فاننا ندعوكم لمساعدتنا في اكمال اهدافنا بالتبرع لتحقيق اهداف اتحاد ملحدي العالم
ق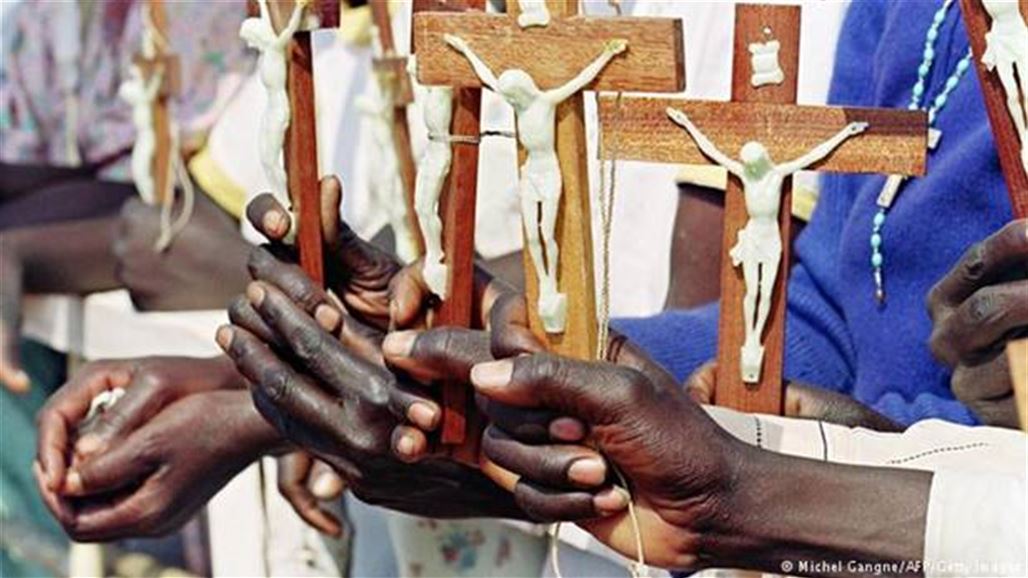 .
وطلبت المحكمة من مريم يحيى ابراهيم التراجع عن اعتناق المسيحية والعودة إلى الإسلام. ووجهت لها أيضا تهمة الزنا لزواجها من رجل مسيحي.
وقالت المصادر القضائية إن القاضي عباس الخليفة سأل مريم ما إذا كانت ستعود إلى الإسلام. فقالت "أنا مسيحية" فصدر الحكم عليها بالإعدام.
وقال المتحدث باسم الخارجية السودانية أبو بكر الصديق إن الحكم سيستأنف في محكمة أعلى درجة.
وأضاف المتحدث أن السودان ملتزم بجميع حقوق الإنسان وأن حرية المعتقد مكفولة في السودان بموجب الدستور والقانون. وأشار إلى ان وزارة الخارجية تثق في نزاهة واستقلال القضاء.
وحمل حوالي 50 شخصا خارج المحكمة لافتات تدعو إلى حرية العقيدة بينما احتفل بعض الإسلاميين بالحكم وكبروا.
ونظم طلاب جامعيون سودانيون عددا من الاحتجاجات قرب جامعة الخرطوم في الأسابيع القليلة الماضية وطالبوا بمزيد من الحريات وتحسين الأوضاع الاجتماعية والاقتصادية.
وأدانت سفارات غربية ونشطاء سودانيون ما قالوا إنها انتهاكات لحقوق الإنسان وحثوا الحكومة السودانية على احترام حرية العقيدة
أعربت سفارات كل من الولايات المتحدة وبريطانيا وكندا وهولندا بالإضافة إلى ممثلي الاتحاد الأوروبي في الخرطوم، عن قلقها إزاء حكم المحكمة.

من جهتها، قالت منظمة العفو الدولية أن مريم نشأت مع أم مسيحية أرثوذكسية في غياب والدها المسلم.
.